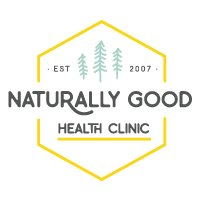 Naturopathic Medicine
The Naturally Good Health Clinic
The goal of Naturopathic Medicine is to enhance health, prevent illness and treat disease.
The Naturally Good Health Clinic is a caring Naturopathic Medicine Clinic that provides primary health care within a setting that allows time to discuss your concerns, history, and circumstances. We address the whole person with our treatments and explore the physical, mental, emotional, environmental and genetic aspects that have contributed to your current state of health.
As Naturopathic Doctors (NDs), we focus on supporting the body's innate healing abilities with natural substances and treatments that combine science and natural medicine. We provide a complementary approach to Western medicine, offer different diagnostic tools and medicines and another opinion.
We listen and are able to provide individualized treatment based on your complete clinical picture.

Naturopathic Modalities
Acupuncture
Biotherapeutic DrainageTM
Botanical Medicine
Bowen Therapy
Clinical Nutrition and Nutraceuticals
Homeopathy
Hydrotherapy
Prevention and Lifestyle Counselling
Traditional Chinese Medicine
Vitamin injections
Contact Us
Ask a question or inquire about booking an appointment below.
1904-B 20 Ave NW Calgary, Alberta T2M 1H5
info@naturallygoodhealth.com